Free Delivery
From our store to your door! We are happy to deliver your medications FOR FREE to your home. Call by noon to receive same day delivery.
Smartphone Refill App
Refill online using our website or with our
Smartphone app
. Ask us how you can get the app for your phone!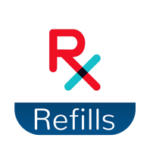 Text or Email Notifications
Text or email notifications when prescriptions are ready. Or if you prefer, we are happy to call you as well. We want to reach you the way you like best.
Compounding and medication flavoring.
Let us customize your medications to meet your individual needs.
Convenient prescription mailing with auto-refills available.
Are you a snow bird in the winter? Or do you have a student with prescriptions who is going off to college? There is no need to find a new pharmacy. We are happy to mail them to your temporary address.
Health Screenings
Ask us about the screenings we offer to ensure you are in good health.
Flu Shots.
Don't feel under the weather. Get your flu shot today! Whether you're as sick as a dog or as healthy as a horse, we're here to care for you and your family.
Drive through window.
Want to stay in your car? Come on down.